Introduction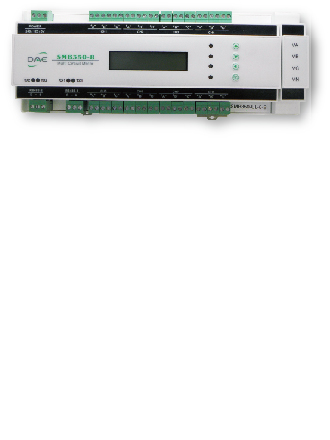 The SMB350 is a multi-channel energy monitor, used for monitoring the energy of each circuit within the same power panel, it can be used for up to eight 3-phase channels, or for eight single-phase 3 wire or 24 single-phase 2 wire circuits.
The SMB350 can measure several different electrical parameters, including voltage, current, real energy, reactive energy, real power, power factor and others. These and other parameters may be read from a central host through its RS485 communications interface. It has second RS485 communications port for use with the ACS35 touch panel display.
This product may not be directly connected to the load, it must make use of external dedicated CTs exclusive only to DAE.
High Accuracy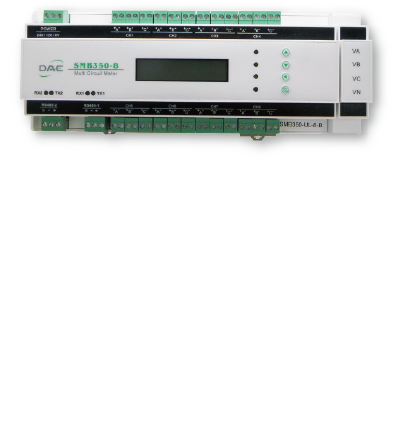 The SMB350 is meant to be used to measure the energy for each branch circuit, while the feeder circuit would have a separate measuring instrument. Given that most branches will not have very large loads, the measuring instrument should have a low starting current as to be sensitive enough to measure small loads. Were it not so, then the measurement would not be reflect the actual usage.
The SMB350 is designed for high accuracy by using dedicated CTs. These dedicated CTs have a starting current in mA units, thus even very small loads are measured. In addition, it has passed tests from independent labs, with each parameter to be off by less than 1%.
Dual Communication
The SMB350 has dual RS485 communication ports; one for the touch panel display and the second for automated meter reading from a remote host.
Each touch panel display can serve to display the data from up to five SMB350 units; allowing the operator to easily monitor the status of all circuits being measured.
The EnergyLink400 software is also available for automated meter reading.

Touch Panel
The ACS35 touch panel display is designed to be mounted on the panel cover for easy viewing of the various SMB350 parameters. Each ACS35 can support up to five SMB350s.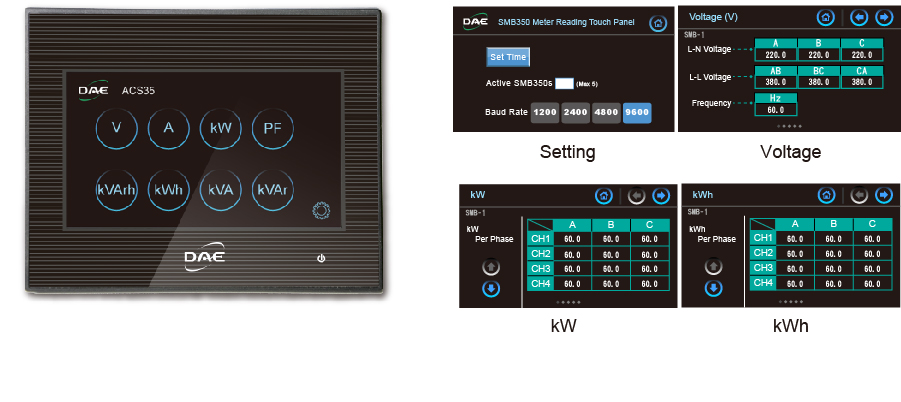 CT Selection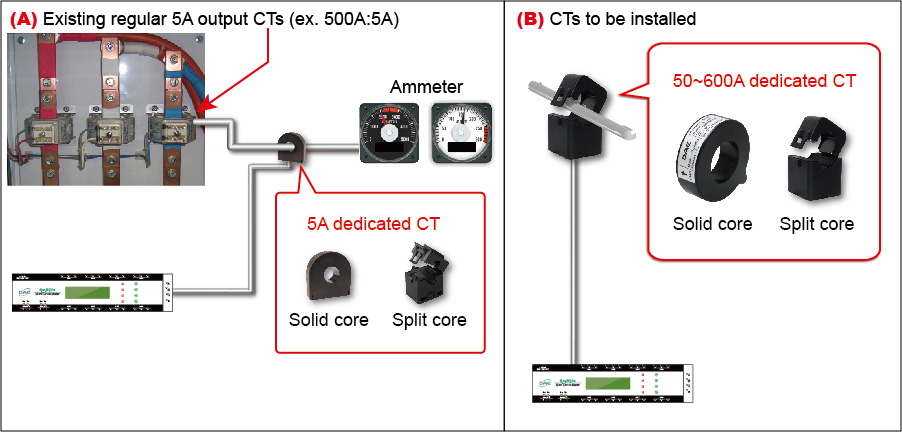 Installation & Maintenance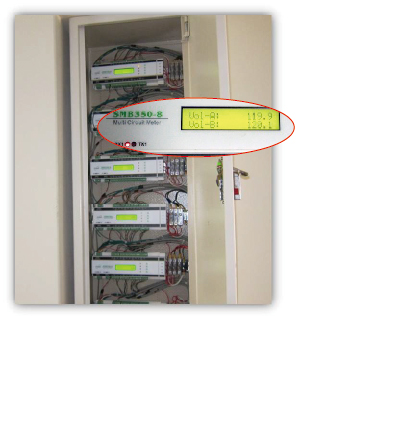 Small and compact, occupies little space and easy to fit into existing panels. Greatly reduces the need and cost to add a new panel.
External CT means that the user has the choice of using solid or split core CT, and can be easily replaced as needed, for repair or for maintenance.
Can make use of split core CT, which makes it very convenient to monitor existing and powered circuits without interruption.
On board LCD display makes it very convenient to view the various parameters at any time, very convenient for testing and diagnosis. Also makes it easy to verify by comparing with a clamp type multimeter.
Configuration can be done directly from the front panel, no need for special devices or software.
Reliability