Cloud System Architecture
For Water Meters
Go to Order
DAE CC2030 Gateway will collect the kWh data or water usage from DAE electrical meters or DAE AMR (Auto Meter Reading Module with RS485 communication for 16 water meters with Pulse Output) or AMR130 (for 1 water meter) and send them to the cloud (DAE server) through Ethernet. With cell phone, PC, building will be able to get access to real time data as well as the monthly water/kWh consumption and billing reports to their tenants.
If there is abnormal water usage (ex. Broken piping), an email alert will be sent to your cell phone automatically. TOU (Time of Use) billing reports are also available from the DAE Cloud Metering System for electricity.
Wireless remote reading available with DAE RF converters.
Components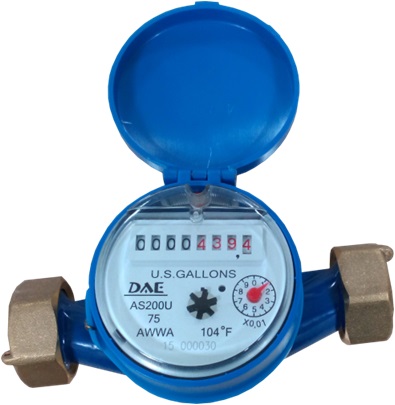 AS200U-75P
Accuracy: ±1.5% within normal flow as per AWWA Standard
The register head can be freely rotated for convenient viewing
Eight digit register counter
Pulse output for remote reading
Max temperature: 104˚F (40˚C)
Conforms to both AWWA and ISO 4064
Suitable for potable water
Max flow protection 1.5 times of nominal flow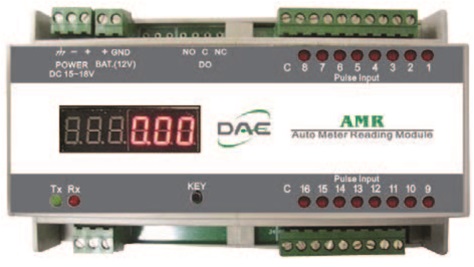 AMR
Auto Meter Reading Module for 16 water meter with pulse output
Modbus/RTU over RS485 communication
Displays the accumulated pulse reading
Optional rechargeable battery for continuing operation during a power failure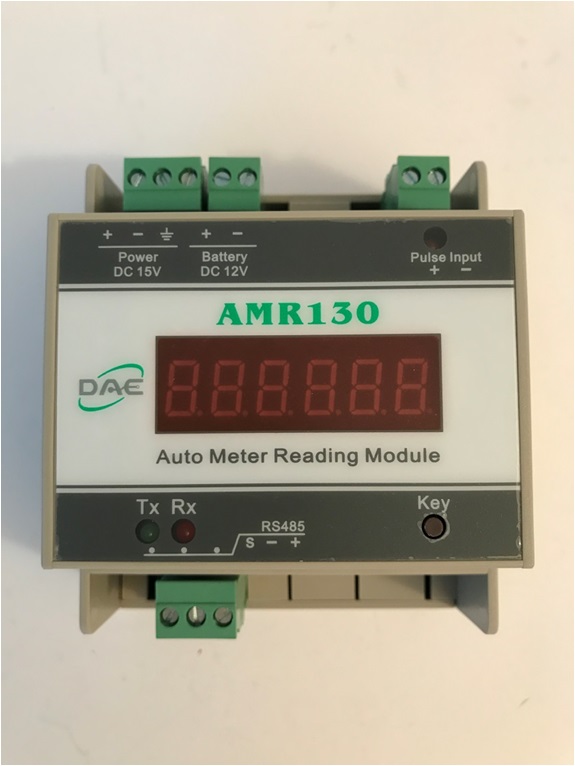 AMR130
Auto Meter Reading Module for one water meter with pulse output
Modbus/RTU over RS485 communication
Displays the accumulated pulse reading
Optional rechargeable battery for continuing operation during a power failure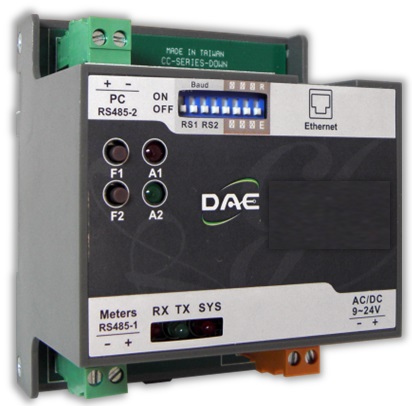 CC2030 Gateway
RS485 to the Meter
Ethernet to the Cloud (DAE Server)
Collect the meter data and send them to the cloud through Ethernet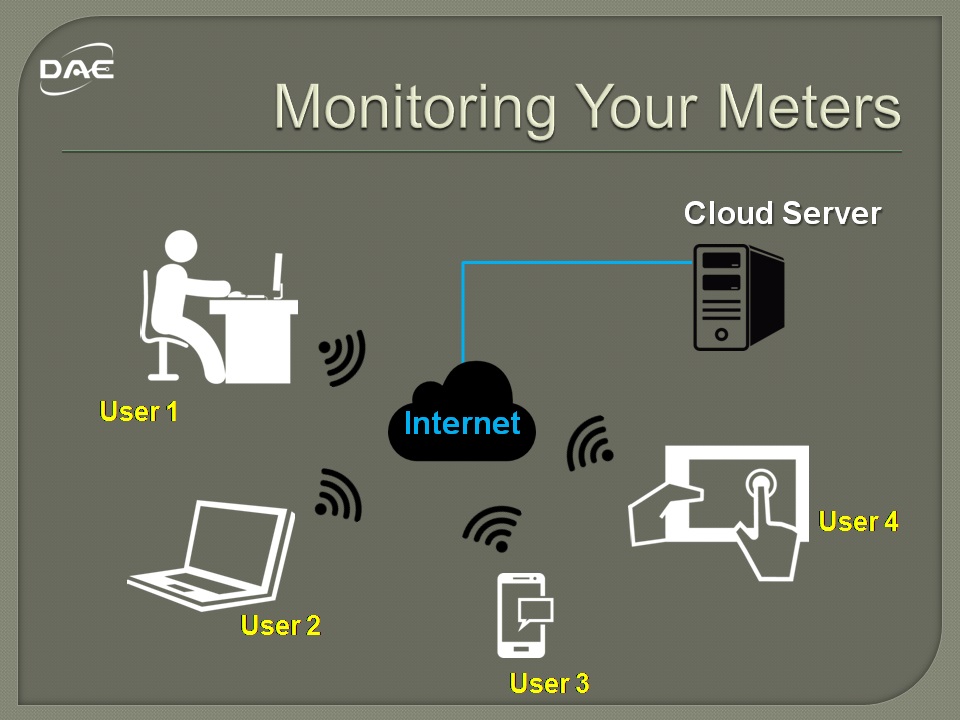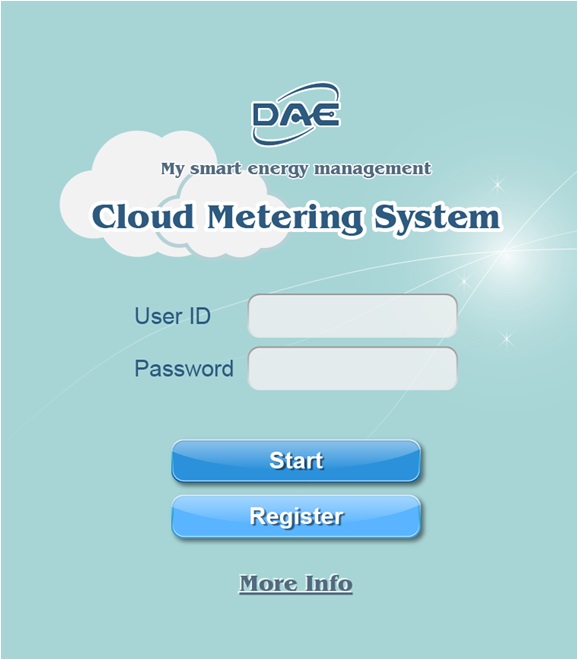 Web-based Monitoring
Real Time Data
Monthly Consumption and Billing Report
Through PC or Cell Phone or Tablet
Billing Reports
| | | | | | | | | |
| --- | --- | --- | --- | --- | --- | --- | --- | --- |
| Project | Device | Meter | Start Date | Gallon | End Date | Gallon | Gallon Consumed | Billed Amount |
| Ellicot, MD | Tenant 1-1 | 1 | 2017/4/1 00:00 | 2863 | 2017/5/1 00:00 | 7570 | 4707 | $188.28 |
| Ellicot, MD | Tenant 1-1 | 2 | 2017/4/1 00:00 | 15 | 2017/5/1 00:00 | 562 | 547 | $65.64 |
| Ellicot, MD | Tenant 1-2 | 3 | 2017/4/1 00:00 | 22 | 2017/5/1 00:00 | 766 | 744 | $89.28 |
| Ellicot, MD | Tenant 1-2 | 4 | 2017/4/1 00:00 | 5973 | 2017/5/1 00:00 | 7205 | 1232 | $147.84 |
| Ellicot, MD | Tenant 1-3 | 5 | 2017/4/1 00:00 | 7 | 2017/5/1 00:00 | 308 | 301 | $36.12 |
| Ellicot, MD | Tenant 1-3 | 6 | 2017/4/1 00:00 | 233 | 2017/5/1 00:00 | 458 | 225 | $27.00 |
| Ellicot, MD | Tenant 1-4 | 7 | 2017/4/1 00:00 | 356 | 2017/5/1 00:00 | 890 | 534 | $64.08 |
| Ellicot, MD | Tenant 1-4 | 8 | 2017/4/1 00:00 | 2863 | 2017/5/1 00:00 | 7570 | 4707 | $564.84 |
| Ellicot, MD | Tenant 1-5 | 9 | 2017/4/1 00:00 | 150 | 2017/5/1 00:00 | 515 | 365 | $43.80 |
| Ellicot, MD | Tenant 1-5 | 10 | 2017/4/1 00:00 | 22 | 2017/5/1 00:00 | 366 | 344 | $41.28 |
| Ellicot, MD | Tenant 1-6 | 11 | 2017/4/1 00:00 | 5973 | 2017/5/1 00:00 | 7205 | 1232 | $147.84 |
| Ellicot, MD | Tenant 1-6 | 12 | 2017/4/1 00:00 | 53 | 2017/5/1 00:00 | 508 | 455 | $54.60 |
| Ellicot, MD | Tenant 1-7 | 13 | 2017/4/1 00:00 | 233 | 2017/5/1 00:00 | 958 | 725 | $87.00 |
| Ellicot, MD | Tenant 1-7 | 14 | 2017/4/1 00:00 | 76 | 2017/5/1 00:00 | 892 | 816 | $97.92 |
Project
Device
Meter
Start Date
Gallon
End Date
Gallon
Gallon Consumed
Billed Amount
Total by Tenant
Ellicot, MD
Tenant 1-1
1
2017/4/1 00:00
2863
2017/5/1 00:00
7570
4707
$188.28
$253.92
Ellicot, MD
Tenant 1-1
2
2017/4/1 00:00
15
2017/5/1 00:00
562
547
$65.64
Ellicot, MD
Tenant 1-2
3
2017/4/1 00:00
22
2017/5/1 00:00
766
744
$89.28
$237.12
Ellicot, MD
Tenant 1-2
4
2017/4/1 00:00
5973
2017/5/1 00:00
7205
1232
$147.84
Ellicot, MD
Tenant 1-3
5
2017/4/1 00:00
7
2017/5/1 00:00
308
301
$36.12
$63.12
Ellicot, MD
Tenant 1-3
6
2017/4/1 00:00
233
2017/5/1 00:00
458
225
$27.00
Ellicot, MD
Tenant 1-4
7
2017/4/1 00:00
356
2017/5/1 00:00
890
534
$64.08
$628.92
Ellicot, MD
Tenant 1-4
8
2017/4/1 00:00
2863
2017/5/1 00:00
7570
4707
$564.84
Ellicot, MD
Tenant 1-5
9
2017/4/1 00:00
150
2017/5/1 00:00
515
365
$43.80
$85.08
Ellicot, MD
Tenant 1-5
10
2017/4/1 00:00
22
2017/5/1 00:00
366
344
$41.28
Ellicot, MD
Tenant 1-6
11
2017/4/1 00:00
5973
2017/5/1 00:00
7205
1232
$147.84
$202.44
Ellicot, MD
Tenant 1-6
12
2017/4/1 00:00
53
2017/5/1 00:00
508
455
$54.60
Ellicot, MD
Tenant 1-7
13
2017/4/1 00:00
233
2017/5/1 00:00
958
725
$87.00
$184.92
Ellicot, MD
Tenant 1-7
14
2017/4/1 00:00
76
2017/5/1 00:00
892
816
$97.92
Tenant
Project
Meter
Type
Start Date
Reading
End Date
Reading
Consumed
Rate
Billed Amount
Total By Tenant
Tenant-201
DEMO 130
1
Electric
2017/3/1 00:00
368.11
2017/3/29 15:00
392
23.89
0.50
$11.95
$16.75
DEMO 23
1
Water
2017/3/1 00:00
24360
2017/3/29 15:00
24480
120
0.04
$4.80
Tenant-202
DEMO 130
2
Electric
2017/3/1 00:00
15479.31
2017/3/29 15:00
15503.44
24.13
0.50
$12.06
$16.78
DEMO 23
2
Water
2017/3/1 00:00
60739
2017/3/29 15:00
60857
118
0.04
$4.72
Tenant-203
DEMO 130
3
Electric
2017/3/1 00:00
246.33
2017/3/29 15:00
256.23
9.90
0.50
$4.95
$10.07
DEMO 23
3
Water
2017/3/1 00:00
49994
2017/3/29 15:00
50122
128
0.04
$5.12
Tenant-204
DEMO 130
4
Electric
2017/3/1 00:00
8890.56
2017/3/29 15:00
8933.24
42.68
0.50
$21.34
$26.46
DEMO 23
4
Water
2017/3/1 00:00
1690
2017/3/29 15:00
1818
128
0.04
$5.12
Tenant-205
DEMO 130
5
Electric
2017/3/1 00:00
3658.59
2017/3/29 15:00
3680.96
22.37
0.50
$11.19
$15.71
DEMO 23
5
Water
2017/3/1 00:00
29582
2017/3/29 15:00
29695
113
0.04
$4.52
Tenant-206
DEMO 130
6
Electric
2017/3/1 00:00
5986.36
2017/3/29 15:00
6008.53
22.17
0.50
$11.09
$15.93
DEMO 23
6
Water
2017/3/1 00:00
36558
2017/3/29 15:00
36679
121
0.04
$4.84
Go to Order